AIBH Honored with 2012 Healthcare Leadership Award
and
Dr. Kuske ~ Finalist in the Researcher Category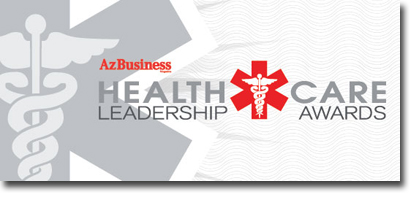 Winner in the Category Institution or Education Program
Finalist in the Community Outreach Category
Arizona Institute for Breast Health was formed in 1998 by local breast cancer expert, Dr. Coral Quiet. Her focus was to offer women who have been diagnosed with breast cancer a second opinion, completely free of charge. There is no other non-profit organization in the country doing this. AIBH has created an unparalleled synergy between medical professionals, patients and their families to provide information, education, resources, hope and peace of mind.

Being diagnosed with breast cancer is overwhelming, and the realization is difficult to comprehend. But knowledge is power. AIBH seeks to inform and educate so that patients are empowered in their battle against breast cancer. To date, AIBH has worked with thousands of women and their families and not only to provide second opinions. In fact, they also provide free support, resources, fitness and nutrition advice and more.

More specifically, when Dr. Quiet came to Arizona, 80 percent of women with breast cancer were treated with mastectomy. Now that women have the knowledge to know their options, that number is only 40 percent. Breast conservation has skyrocketed since the organization began educating the community and women diagnosed about all of their options.


Dr. Robert Kuske was a finalist in the Researcher Category this year, as he is co- principal investigator in the largest breast cancer radiation trial in history. His trial, sponsored by the National Cancer Institute, is testing head-to-head six-week whole breast radiation versus five-day partial breast irradiation. Targeted to a randomized 4,300 women, Kuske is within a year of finishing the trial and believes the results will cause a major shift in how breast cancer patients will be treated.
Click here to see the complete article.
Copyright © 2007-2013, Arizona Cancer Specialists LLC. All Rights Reserved.